The first step that the couple did was to develop a complex network path model such as the one shown in Figure 8.1. Some required tasks are modeled sequentially, where subsequent tasks cannot be completed unless the previous task is complete. For example, the roof cannot go on unless the structure has been framed, and the excavation work cannot start unless the architectural plans and permits have been approved by the city officials. Other tasks can be modeled in parallel, such as obtaining bank financing and completing the financial paperwork can be done in parallel with submitting the plans to obtain a permit, or plumbing, heating, and electrical work can be executed concurrently (the plumbers and electricians may be in each other's way but they can still work around each other).
Figures 8.2 and 8.3 illustrate some of the input assumptions the couple and contractor projects each task will cost. The required schedule (in weeks) for each task is also entered. A Monte Carlo risk simulation was run. The results in Figure 8.2 show the critical path of the house building process and Figure 8.3 shows the probability that each path will be the critical path.
Figures 8.4 and 8.5 show the results of the cost and schedule risk profile. While the single-point estimates in Figure 8.3 show $1,230,173 and 38 weeks to complete building their dream home, after running a simulation, the expected or mean cost is actually $1,247,877 and 38.7 weeks. In fact, to be safe, the couple chose a 99th percentile where the cost is sure not to exceed $1,297,404 and 41.4 weeks. This means that they need to have approximately a $50,000 buffer and 3 extra weeks for potential slips in schedule. This might mean the couple will need to hold off getting that new sports car and shift a few weeks to hold that neighborhood block party!
Finally, to reduce the potential schedule slippage, the new homeowners could find ways to mitigate the tasks that are on the critical path. For instance, financing (Task 3) may be taking too long, and they might consider working with a more seasoned mortgage broker rather than doing the paperwork on their own, or that landscaping (Task 30) work can start earlier, once the exterior finishes are done, and so forth. These changes can be made in the model and the computations can be rerun to see the impacts of these modifications.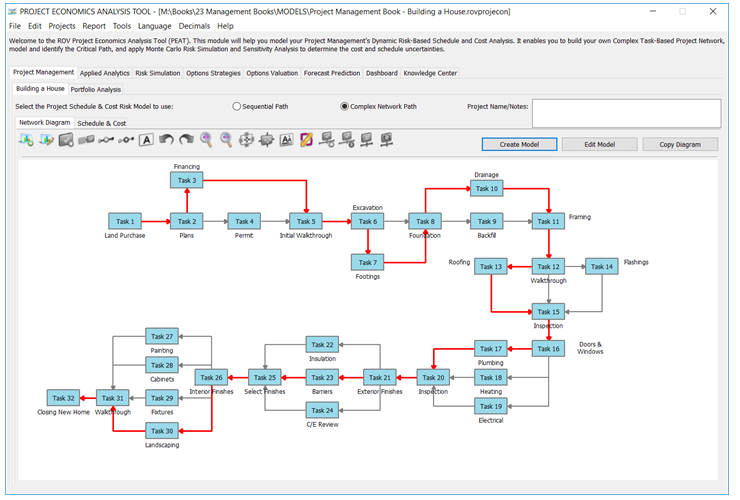 Figure 8.1: Complex Network Path Model
Figure 8.2: Cost and Schedule Assumptions I
Figure 8.3: Cost and Schedule Assumptions II
Figure 8.4: Simulated Cost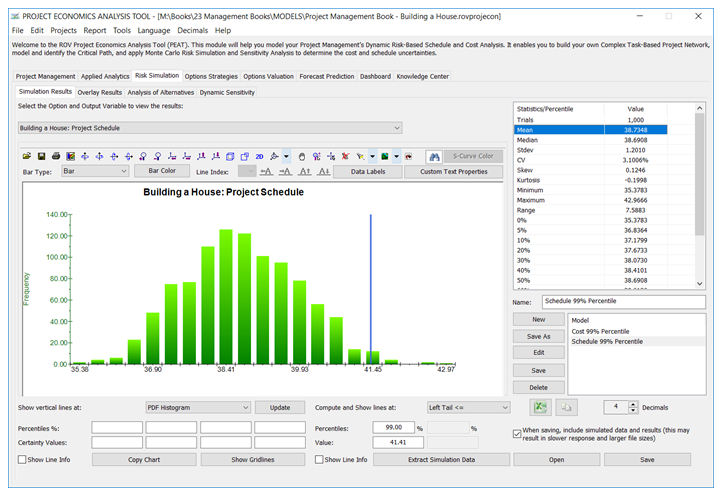 Figure 8.5: Simulated Schedule